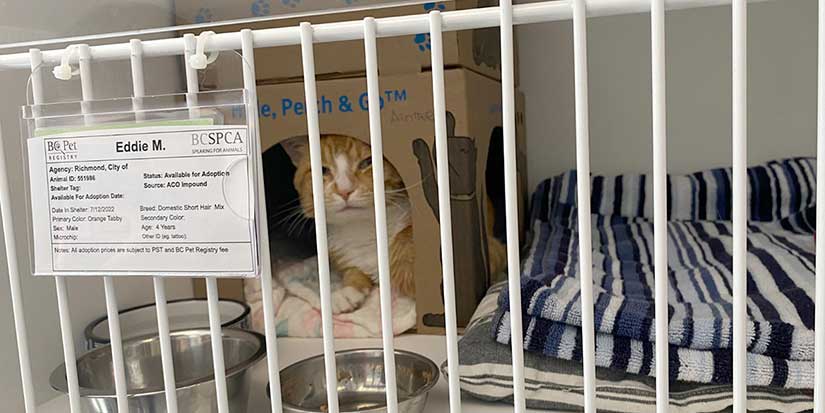 "The city's new shelter has space for 40 cats, including some that are adoptable." Photo by Hannah Scott
As Richmond celebrates the opening of a new animal shelter, a partnership between the city and BC SPCA, pet owners are encouraged to take measures in case their pets are lost.
The BC SPCA recommends that all pet owners register their pets with the BC Pet Registry, so if an animal is lost it can be reunited with its owner as quickly as possible.
"Our goal right now is to build the system in (British Columbia) and eventually we want to go national, across Canada, so that we will have one central system for all registry for animals," says Priscilla Cheung, manager of the BC Pet Registry at BC SPCA. "If an animal is microchipped, they will be easily scanned by any vet out there and can be reunited with their owner."
Cheung says every animal adopted from the BC SPCA is already registered with the pet registry. A small fee is charged ($12 annually or $45 for an animal's lifetime), which mainly goes towards the cost of maintaining the program. An owner's contact information is stored in the system and can be changed anytime their pet's registration is active.
"The majority of animals that are lost are cats," says Cheung. "Dogs are more connected with owners because they're more dependent; cats are more independent. My mission is to tell all cat owners that they need to register their cats, because if they get out it's very hard to find them."
Cheung says the opening of Richmond's new animal shelter is a great time to increase awareness of the BC Pet Registry.
"This is a gateway to really educate the public and communities about the importance of getting permanent ID and registration for (their) animals," she says.
"Our system is 24/7, operated by the call centre that helps all animals at the SPCA. If an animal is lost (and you) don't know where to go, you can always reach us at the BC Pet Registry."
For more information about the BC Pet Registry, visit bcpetregistry.ca/