BC Pet Registry, Canada's first centralized database to help reunite lost pets with their guardians, was created in 2015 by the BC SPCA. It is the only non-profit pet registry in Canada that is determined to achieve social change.
This time, the Pet Registry is helping low-incoming pet guardians in Victoria to ensure their animals have proper pet identification. 
Despite the rising cost of veterinary care and the shortage of veterinary staff, Vets for Pets is a not-for-profit organization offering free veterinary care to dogs and cats of homeless and low-income pet owners of the Victoria area.
As a proud sponsor and supporter of Vets for Pets, the BC Pet Registry is donating 500 microchips to the cause. The clinic is open on the second Sunday of each month, helping residents in the Victoria community. The BC SPCA Victoria is also a charitable partner during these events, helping deliver pet food and supplies to the community.
Did you know…by registering your microchip and tattoo codes with the BC Pet Registry, you are supporting outreach programs like this event and assisting low-income pet owners and their furry friends?
Here are some photos from the clinic! Introducing Chloe (pink Toque) and Megan.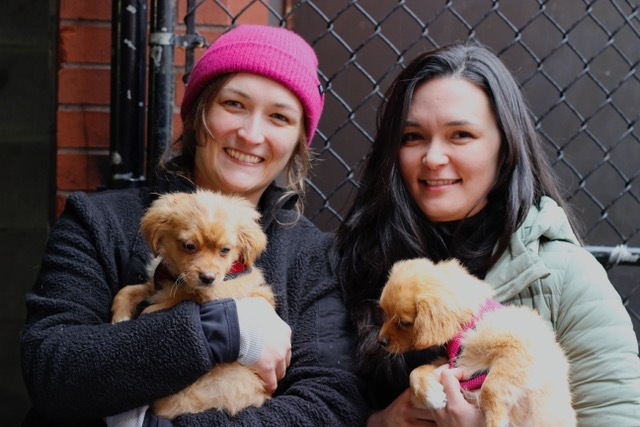 They are local veterinarians who took over Vets for Pets in the Summer of 2022 from Dr. Jane Vermeulen. They attended veterinary school together and graduated together in 2021 from the WCVM in Saskatoon, SK. Throughout veterinary school they were both passionate about community outreach so taking over this initiative was a natural fit for them. They host 1-2 free clinics each month at local shelters and subsidized housing locations with the help of veterinarians, veterinary technicians and veterinary assistants in the community. While they mainly focus on preventative medicine such as vaccines and parasite control, they do have the ability to treat simple medical issues. 
Thank you, Chloe and Megan! 
How can you help support initiatives like this? It's simple! 
Register

your existing microchip or tattoo code with us.
Share BC Pet Registry's mission of reuniting lost pets with their owners with your friends and families so their furry family members are protected too!
Volunteer your time at events hosted by the BC Pet Registry.
Together, let's make the "impossible" possible!