Wildfire or flooding evacuations are a tough time for people and also of course, the animals they love and care for. Planning ahead is crucial to making your emergency exit as efficient as possible.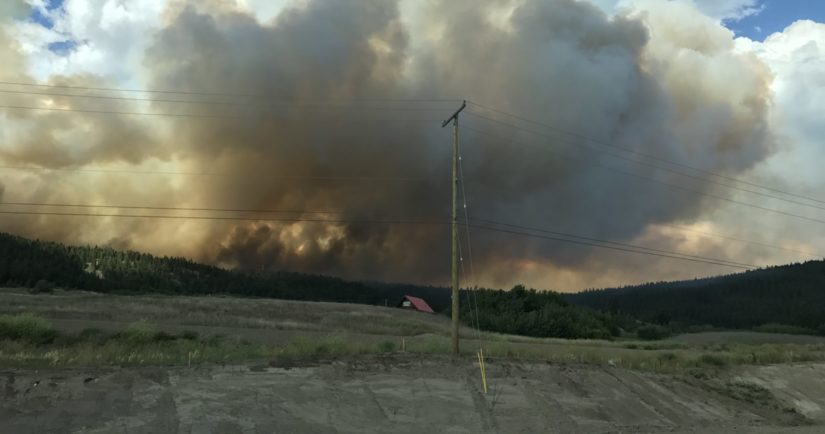 Prepare & Prep
Register Your Pet:
 In the event you're separated from your pet during an emergency evacuation, 
making sure your pet is registered with identification
 (microchip, tattoo or licence) is crucial for a quick and safe return. During an emergency, your pet may have entered a shelter and its microchip can be easily scanned (or tattoo code read). The ID is then searched on 
bcpetregistry.ca 
and owner is contacted using the phone number or email on your pet's profile. It's important that you contact details are updated if they ever change – this can be done online.
Pet's Medical Records:
 Make copies of your pet's records and then tape them to your emergency crate or with other items you'll have to bring during an evacuation.
Important Emergency Checklist
Food, water and treats for one week:

Include dishes – collapsible are great,
Manual can opener, spoon/scoop.

Dogs: 4 litres of water per day
Cats: 1 litre/day
Pet first aid kit: Have the ability and knowledge to provide emergency help for your pet.
Medications and medical records: include vet contact info, pet photos with written descriptions of your pets, and store in a Ziploc bag.

Copy of your pet's current vaccination history.
Any special medications and instructions.

Dogs: waste bags; disinfectant for pet mess clean-up, paper towels,
Small cat litter box, litter, scoop, garbage bags,
Small animals: bedding, extra water bottle, hiding box, extra hay.
Dog leashes (6 foot and 15-20 foot), harness, muzzles; consider having a cat harness and leash
Emergency Sticker: Put a sticker on each entry for first responders.
Sturdy carriers: Consider expandable "tent" carrier for cats, an exercise pen for dogs or a travel cage for small animals.
If you can bring it, a larger expandable "tent" carrier for cats, or an exercise pen for dogs can make them a bit more comfortable if you're going to be out of your home for an extended period of time. Having spaces for your cat or dog to hide in will provide some much-needed comfort. While humans understand what's going on and know it's temporary a pet going into a big gym or a shelter is scary for pets. Having somewhere they can play or hide gives them a chance to feel safe wherever they are.
Toys to help entertain and lower stress (dogs: Kong, ball, treat ball; cats: feather wand, catnip toys)
Comfort: Bring some of the things that will allow them to feel comfortable. This could be a toy or a brush from home, or their favourite treats help to keep them safe and happy.
Extras: Towels/blankets, paper towels, rope, duct tape, Sharpie marker, snap ties.
Label all containers with pet names and your contact information – things can go missing in an emergency. As many items as possible should be packed in ready-to-go bins or backpacks. Mark storage bins with pet names and your contact information in case items are separated at an evacuation center.
While in storage, rotate pet food and water every three months; replace medications as advised by your veterinarian.
If you have animals who cannot be moved in an immediate evacuation, such as aquarium fish or farm animals, create a sign describing the animals left on the property with your name and contact information. Prepare this now and keep tape with it so it is ready to affix to your door to alert rescue officials.